AVTEAMUK Ltd. specialises in multimedia content creation and audio visual for live events, promo production, post production. We're flexible, professional and experienced, offering seamless project support from concept to delivery.
We are preferred supplier to The Royal College of Surgeons in their new venue The View with Searcys and The Honourable Society of Lincoln's Inn in Holborn.
Our services have included Hybrid Events, Live Web Streaming and broadcasting, audio visual and video production.
"From our acclaimed in-house catering team to our skilled front of house team, we take great pride in offering our clients an all-encompassing, first-class service and event offering. I'm thrilled that we have AVTEAMUK Ltd. on-board to ensure that our clients receive a quality AV service to suit their event needs."

Kirsten Kruls, head of sales & events at The Honourable Society of Lincoln's Inn
Lincoln's Inn opens brand new centre for events using AVTEAMUK Ltd. technology
The centre, ingeniously crafted with architectural marvel, sits below the venue's 19th century Great Hall, boasting natural light and original brickwork. The space comprises of a lecture theatre with retractable tiered seating for up to 158 delegates and a generous suite of ten contemporary meeting rooms.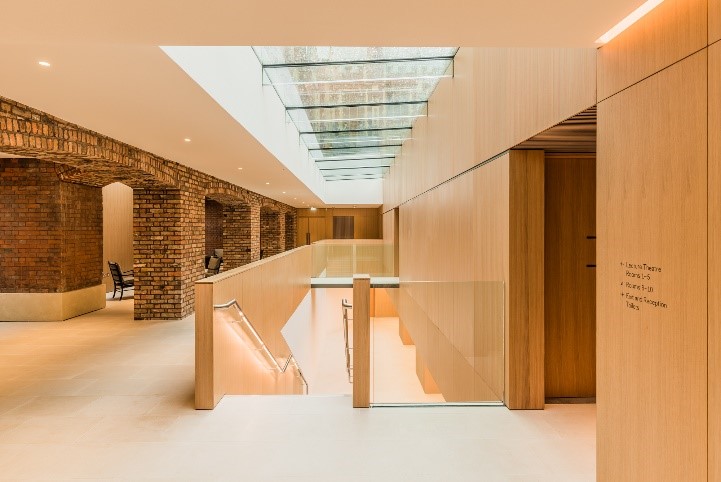 To ensure the state-of-the-art venue is equipped with the latest technology, AVTEAMUK Ltd. has been selected as the Ashworth Centre's dedicated AV supplier.
Her Majesty the Queen officially opened the Ashworth Centre last year following the initial structural progress of the building, alongside the reopening of the illustrious Great Hall above. The venue has now opened to the public and is taking bookings for 2019 and 2020.

Our primary services:
Crew – Freelance staff for audio visual support and video production.
Video production services, from concept to delivery and marketing.
Audio visual services, from concept to delivery. All equipment and crew supplied.
AV and video equipment dry-hire.
Transfer and copy services: from older video formats to digital.
Our Promises:
We won't be beaten on price. If you have a quote for comparable* products and services we will beat it by 15% straight off the bat.
We offer a 100% satisfaction guarantee. If you're not totally happy with the level of service you receive we'll discuss your final invoice before payment is due*.
Follow us on social media
@avteamuk: Instagram, Twitter, Facebook
Follow @avteamuk